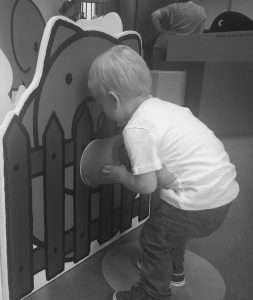 Afgelopen zaterdag was het vies druilerig weer, dikke druppels liepen over de ramen, niet echt weer om buiten te spelen. Maar ja, soms wil je ook niet thuis blijven en moet je er even tussenuit. Wat doe je dan? Je geeft je zoon of dochter twee muntjes en je trekt er op uit!
Bijvoorbeeld naar Utrecht, een stad die stiekem best kindvriendelijk is. Zo heb je er een aantal fijne koffietentjes en restaurants die met je meedenken als ouder, door een kinderhoek te maken achterin het restaurant, met genoeg tafels met uitzicht op die speelhoek. Ideaal, kan jij ook even relaxed je koffie drinken of een hapje eten.
Maar Utrecht heeft nog meer! Er zijn namelijk genoeg museums waar jouw zoon of dochter zich prima kan vermaken, zoals het Spoormuseum, Klokkenmuseum, Nationaal Militair museum en het Nijntje museum. En dat Nijntje Museum, daar zijn wij afgelopen zaterdag geweest en dat was een feest!
Ik hoor je al denken, ja lekker dan, naar een museum als het regent, dat doet natuurlijk iedere ouder op dat moment. En dat klopt. Maar bij het Nijntje museum hebben ze daar goed over nagedacht, ze werken daar met tijdsloten. Je kan een kaartje kopen met een bepaalde tijdsduur, hierdoor speelt niet heel Utrecht tegelijk in het museum. Speelt? Ja speelt! Want het museum is een groot feest voor kinderen binnen, je kunt er naar het Nijntje huis, naar de Dierentuin, je kan fietsen, puzzelen, een but van 'hooibalen' bouwen, het is één groot feest!
Je vraagt je natuurlijk af, maar waarom dan twee muntjes geven voordat je van huis vertrekt? Omdat er altijd op zo'n dag momenten zijn dat hij niet in de buggy wilt zitten, dat hij niet in die ene speelhoek wil spelen of dat hij ontzettend graag een koekje wilt eten en jij wilt dat eigenlijk niet. Op dat moment vraag je: "Hey! Hebben we de schat nog wel bij ons? Laat hem nog eens zien!" Waarop kindlief weer even gefascineerd is door die schat die jij hem hebt toegestopt vanmorgen, terwijl je op fluistertoon zei dat dit wel een heel groot geheim moest blijven en dat hij de schat het beste kon bewaken in zijn broekzak (*knipoog.)